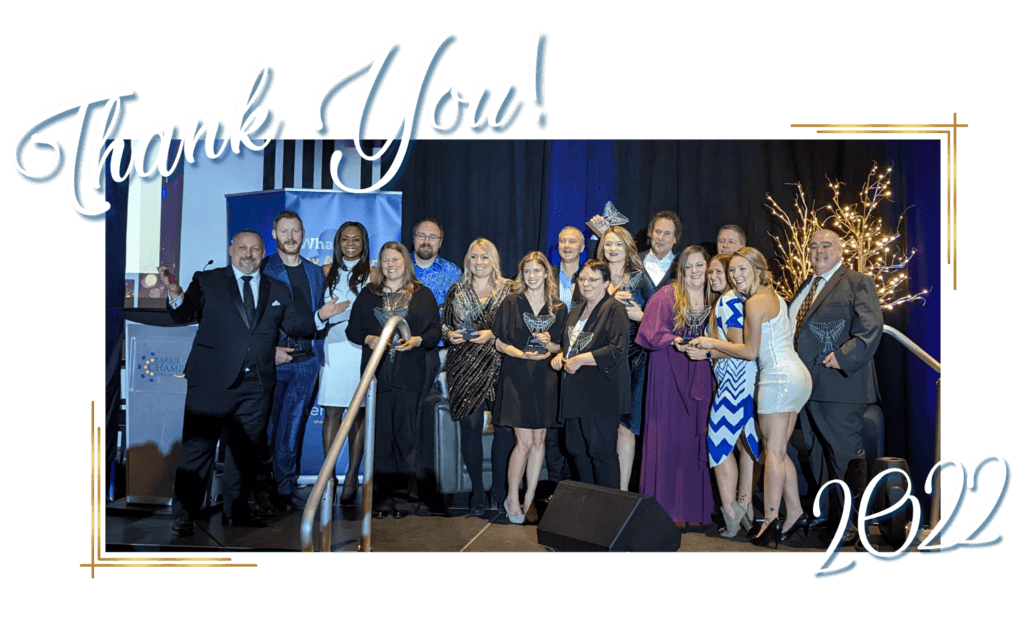 For immediate release
(Barrie – November 30, 2022) The Barrie Chamber of Commerce hosted the 20th Annual Barrie Business Awards Gala last evening at Liberty North. Mayor Alex Nuttall, City of Barrie Council, local dignitaries and businesses came out in force to celebrate the Barrie Business Community. Signature sponsor Meridian and Platinum sponsor Bell headed the powerhouse line up of corporate supporters of this year's event.
It is with the support of our sponsors that the Barrie Chamber is able to encourage, support and highlight local businesses. They have our gratitude:
Meridian
Bell
City of Barrie
Georgian College
Invest Barrie
Nexim Healthcare Consultants
Innovative Automation
TD Bank
Busch Systems
Alectra Utilities
RBC Royal Bank
Grant Thornton
BMO, Bank of Montreal
ScotiaBank
Chambers Plan Employee Benefits
Barrie 360 / Rock 95 / Kool 107.5 / Fresh 93.1 / Big 101.1
Elliot Impact Media
Barrie Today
Simcoe.com
Aspen Films
Michael Enterprise Audio & Visual
Leah Smith-Size, Design by Size
Liberty North
Collins Clothiers / The Clothing Guy
Awardify
Gage Print & Packaging
Olive Oil Co, Barrie – Newmarket – Midland
Georgian Life Media Inc.
The awards are intended to acknowledge a set of values that recognizes social responsibility, entrepreneurial spirit, risk taking, ideas and innovation in the community.
The winners are:
City of Barrie, Mayor's Employer of the Year Award:
Busch Systems
BMO's Manufacturing, Engineering & Construction Business Excellence Award:
Canplas Industries Ltd.
RBC's Service Business Excellence Award:
Trooper Pet Veterinary Nursing
Meridian's Hospitality & Tourism Excellence Award:
Wine Journeys
Innovative Automation's Not-For-Profit or Charitable Organization Award:
Glowing Hearts Charity
Invest Barrie's New Business Award:
Jet Lag Voyages
Scotiabank's Business Growth Award:
Brian's Little Electric Inc.
Alectra Utilitie's Marketing & Promotions Award:
Assisting You Social
Bell's Pay It Forward Award:
Barrie Chrysler and 400 Chrysler
TD's Small Business of the Year Award:
Baker Studios
Georgian College's Young Professional of the Year Award:
Tom Zinn, with Affordable Comfort
Grant Thornton's Employee of the Year Award:
Bill Bradbury, with Busch Systems
Busch System's Arch Brown Entrepreneur Award of Excellence:
Patricia Dent, with Grow Vantage
Finalist details can be found at: barriechamber.com/awards/
For more information, please contact:
Paul Markle
Executive Director (He/Him)
121 Commerce Park Drive, Unit A
Barrie, Ontario L4N 8X1
(O) 705 - 721 - 5000 ext. 5
(C) 249-288-3540