Amplifying the Voice of Barrie Businesses
Advocacy is a key function of the Barrie Chamber of Commerce. We are connected with local elected officials to bring your issues forward and find actionable solutions. Tell us about the challenges you are facing in your business, and check back regularly for updates on our initiatives and programs!
FOR IMMEDIATE RELEASE February 2, 2023 Hon. Seamus O'Regan, P.C., M.P. Minister of Labour Email: Seamus.ORegan@parl.gc.ca Hon. François-Philippe Champagne, P.C., M.P. Minister of Innovation, Science and Industry of Canada Email: ministerofisi-ministredeisi@ised-isde.gc.ca Hon. Omar Alghabra, P.C., M.P. Minister of Transport Email: TC.MinisterofTransport-MinistredesTransports.TC@tc.gc.ca Dear Ministers: The proposal to introduce legislation on prohibiting replacement workers in federally…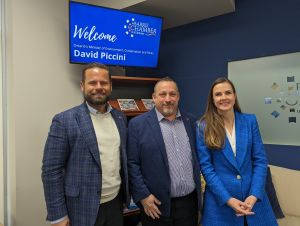 FOR IMMEDIATE RELEASE BARRIE – January 9, 2023 The Barrie Chamber of Commerce welcomed MPP Andrea Khanjin, Parliamentary Assistant for Intergovernmental Affairs and MPP for Barrie-Innisfil as host to David Piccini, Minister of Environment, Conservation and Parks and MPP for Northumberland-Peterborough South for a roundtable discussion. Community stakeholders joined to discuss Environmental Compliance Approvals, Environmental…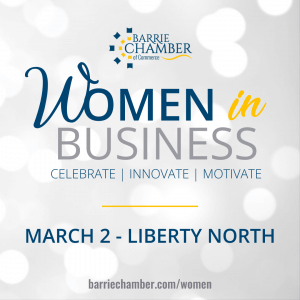 In our continuing effort to openly and publicly offer opportunities to work with the Barrie Chamber of Commerce, we would like to offer the following RFP: Open bid for the Audio / Video / Staging services for our Women in Business Gala 2023. Please submit the form below if you can meet or exceed the…
Ontario Chamber of Commerce
The Ontario Chamber of Commerce represents over 56,000 Members through a network of 156 community Chambers of Commerce and Boards of Trade in addition to a growing corporate base. They serve both Community Chambers and Corporate Members in matters of provincial concern and provide a forum for discussion and the dissemination of views of our Members on matters of concern to the business community.
Canadian Chamber of Commerce
The Canadian Chamber of Commerce is the national leader in public policy advocacy on business issues. Their goal is to foster a strong, competitive economic environment that benefits Canada and all Canadians. Their customers reflect a strong, diverse network and include: chambers of commerce, boards of trade, corporate members, business associations – businesses of all sizes in all regions as well as non-members who purchase our products and services. They are the national and international voice for Canadian business.
Committee Mandate
Policy Review: To follow legislative proposals at all levels of government and to offer input thereon in order to ensure that lawmakers recognize the needs and views of our constituency. To convey relevant legislative amendments to our constituency. To monitor issues of local interest and to report to the Board monthly.
Business Support: Establish the Chamber and the City of Barrie as a destination for existing and emerging businesses by offering access to resources, guidance and support.