Provincial investment in home heating upgrades helping more families save money and reduce emissions.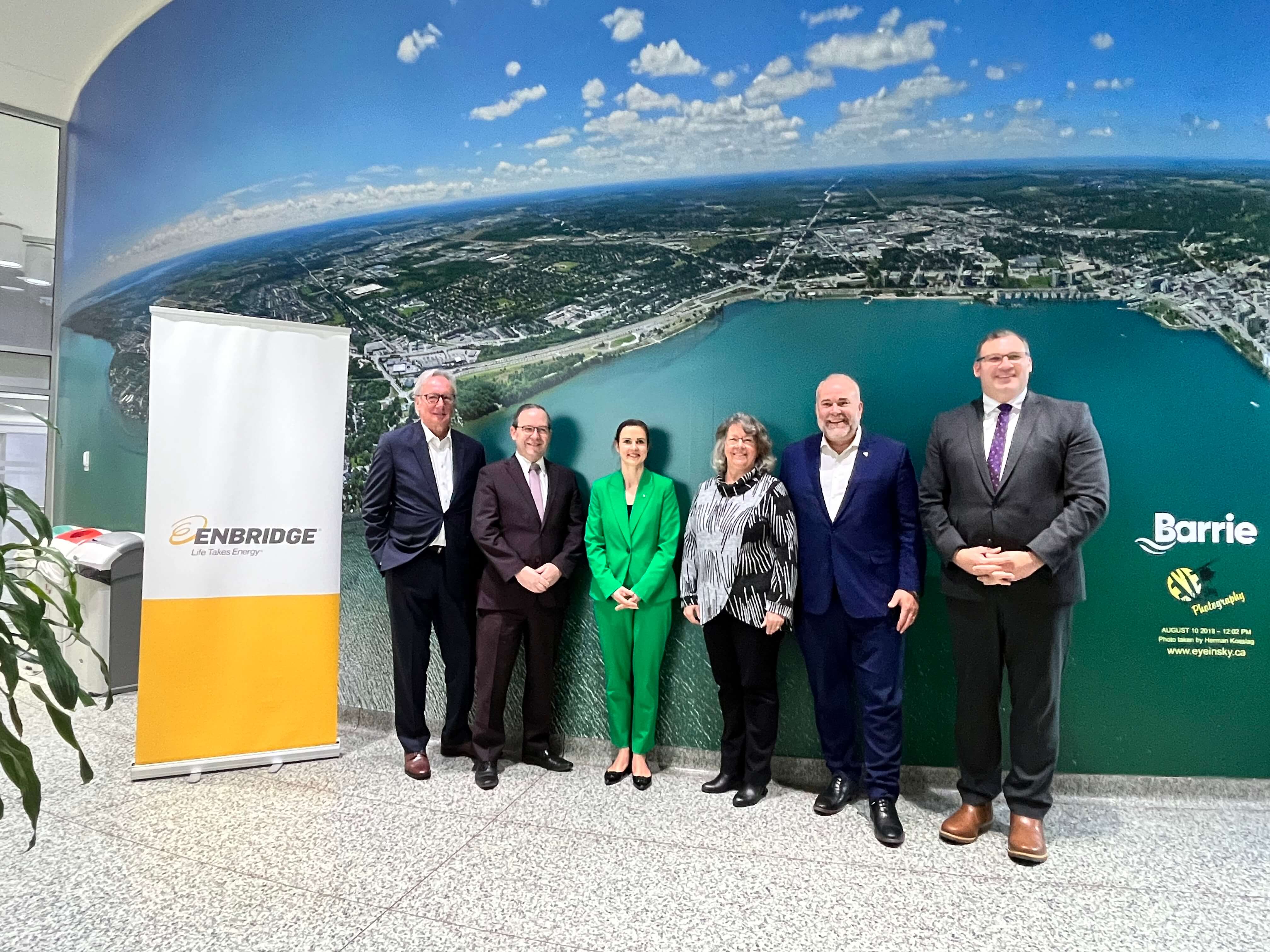 From left to right: Blair Peberdy - Alectra Utilities, Attorney General Doug Downey, MPP Andrea Khanjin, Sarah Van der Paelt - Enbridge, Hon. Todd Smith - Minister of Energy, Barrie Mayor Alex Nuttall
May 2, 2023 BARRIE – The Ontario government is investing a total of $8.2 million in the Clean Home Heating Initiative to help families in more communities keep energy costs down. The increased funding brings the total number of households eligible to more than 1,500.
The City of Barrie is the first community to benefit from the increased investment which will see hundreds of homeowners receive support for the installation of electric heat pumps with smart controls through incentives of up to $4,500.
Switching to hybrid heating could save customers up to $280 every year on their energy bills, while cutting their emissions by a third thanks to Ontario's clean electricity grid," said Todd Smith, Minister of Energy. "Our government is excited to provide this opportunity to homeowners in Barrie as we continue to deliver more ways for families to take control of their energy bills and keep costs down."
The Clean Home Heating Initiative, delivered in collaboration with Enbridge, will allow households to leverage Ontario's world-class clean electricity grid. Electric heat pumps replace existing air conditioners in the summer, but they can also operate in reverse in the winter to provide high-efficiency home heating. With the further addition of smart controls, a hybrid heating system automatically switches between the heat pump and a home's existing natural gas furnace depending on weather and which heating source is least expensive.
"We are listening to people in our communities and doing everything we can to keep down the cost of living for families and individuals," said Andrea Khanjin, MPP for Barrie-Innisfil. "Our government's Clean Home Heating Initiative is also a great opportunity to invest in energy efficient solutions that assist in carbon reduction. A hybrid heating system can reduce a home's greenhouse gas emissions by about one-third a year."
"We've heard from people all across the province that they want more control of their monthly costs, like energy bills," said Doug Downey, MPP for Barrie – Springwater – Oro-Medonte. "This initiative allows families to make cost and environmentally conscious changes to help reduce their bills, and their emissions all in one. I look forward to seeing the impact of this new initiative in our community."
"I'm excited that the Clean Home Heating Initiative is expanding into Barrie. We're committed to advocating for these opportunities that encourage energy conservation and support a more affordable choice for our residents," said Alex Nuttall, Mayor of the City of Barrie. "The City of Barrie welcomes these kinds of efficiencies, and I applaud Minister Smith, Premier Ford and the provincial government for championing these investments in solutions to the climate challenge we all face."
The Clean Home Heating Initiative supports Ontario's economy and advances market readiness to offer clean heating options by creating well-paying jobs and building capacity in the skilled trades, including the province's Heating, Ventilation, and Air Conditioning (HVAC) industry, and local Ontario-based suppliers. It also provides the government with the opportunity to continue to learn from the hybrid heating model and inform decisions on offering the model more broadly in the future.
"Hybrid heating can significantly reduce a home's carbon footprint while increasing the flexibility and reliability of its heating and cooling system," said Sarah Van Der Paelt, Director of Marketing and Energy Conservation at Enbridge Gas. "We appreciate the support from the provincial government, the participating municipalities and the electricity sector for strengthening this program and its ongoing commitment to energy efficiency and carbon reduction measures. Together, we are working towards a cleaner energy future."
Quick Facts
Hybrid heat pump systems provide the energy-efficiency benefits of an electric air-source heat pump (ASHP) with the reliable heat of an existing natural gas furnace.
The Clean Home Heating Initiative provides participants with incentives of $3,000 for standard air-source heat pumps (ASHPs) and $4,500 for cold-climate air-source heat pumps (ccASHPs), which can cut emissions and energy costs for households even more than standard ASHPs.