Saturday, November 18, 2023
The Barrie Santa Claus Parade, presented by the Barrie Chamber of Commerce since 1949 will be returning for its 74th run on Saturday, November 18th, 2023. This long running family event in Barrie is a holiday tradition!
REGISTRATION NOW OPEN.
Let's Start Planning
Download our Participant Guide - this will include location information, timing, rules and expectations of all participants of the parade.
2023 Theme
The Theme for 2023 is PARADE OF LIGHTS! With so many incredible options available, we know the amazing Barrie Business Community will deliver a dazzling show. We can't wait to see it!
All media outlets, please contact the Barrie Chamber Office:
Tricia Barrett-Bulter, Communications & Administration
705-721-5000 x4
Tricia@barriechamber.com
Leah Smith-Size, Committee Co-Chair
Sandy Tuckey, Committee Co-Chair
Barb White, Committee Member
2023 Sponsorships
We welcome the business community to take advantage of this long time, community favourite event and become sponsors. Each package includes a float entry in the parade. 
If you would like to be a sponsor but are unable to create a float - we have a solution! Charity groups often have the time and enthusiasm to build a float, but not the capital to generate one. Businesses often have the funds, but lack the bandwidth to dedicate the effort to build. By connecting you to each other, you both have the opportunity to get out in front of the Barrie community as partners.
The Barrie Chamber is happy to pair your company with a local Charity or Not for Profit organization.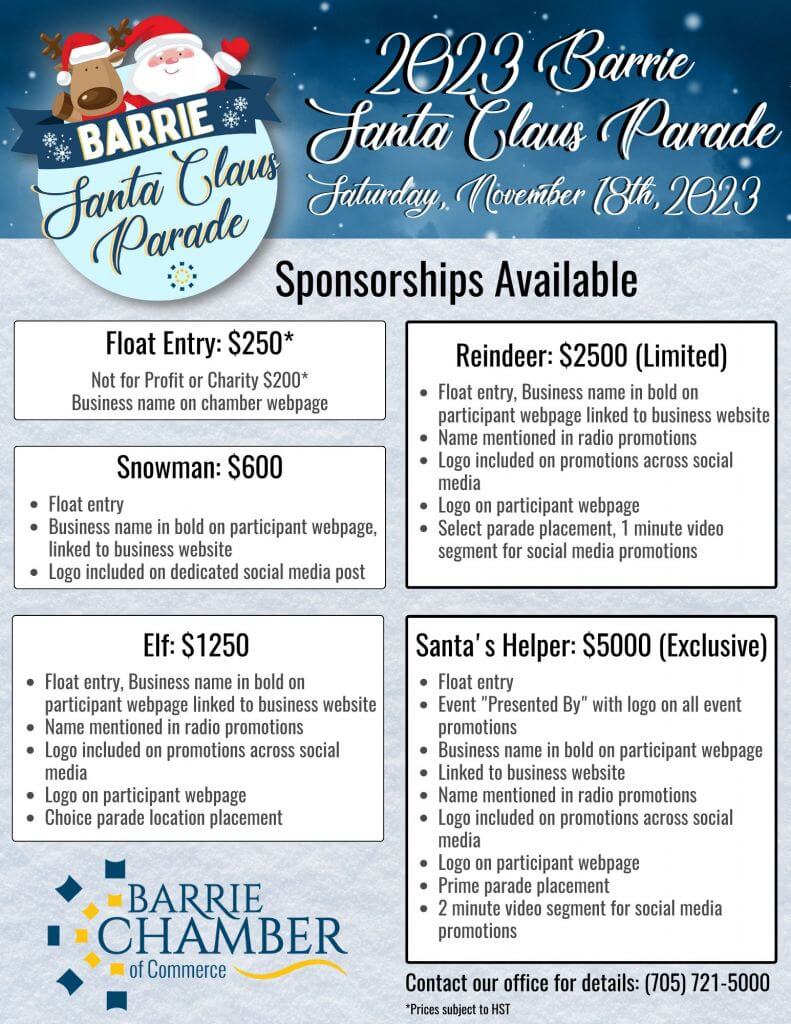 What's Next?
Float and Sponsor registration is now open! Please click the button to be included on related announcements.