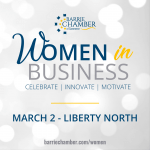 Wednesday, January 4, 2023
FOR IMMEDIATE RELEASE
(BARRIE – January 4, 2023) The Barrie Chamber of Commerce is proud to offer the Women in Business Awards for 2023. An awards luncheon that provides a platform to recognize the women that lead and succeed in Barrie. By acknowledging social responsibility, entrepreneurial spirit, risk taking and innovation; trail blazers and leaders in our community will receive the recognition and accolades they so richly deserve.
The Chamber Board, staff and our members would like to invite the public to nominate a deserving woman today. Nominations are open online until Monday, January 9, 2023 at 11:59pm:  barriechamber.com/women
The Barrie Chamber utilizes Awardify; a user friendly, secure, Canadian-made awards management platform to ensure the integrity of the award selection process. Nominated by the public, the nominees will submit their applications to the system to then be evaluated by an impartial panel of judges from across Ontario.
The award recipients will be announced at the luncheon event on Thursday, March 2nd, 2023 at Liberty North. Tickets are now on sale at barriechamber.com/women
The award categories for 2023 are:
·        Entrepreneur
·        Intrapreneur
·        Young Entrepreneur
·        Heart & Soul
·        Woman in Trade
·        Visionary
In addition to the high level networking opportunities available, there are tremendous sponsorship and branding benefits.
·       Sold out year after year
·       Up to 300 audience members in attendance
·       Gala event in early March to correspond with International Women's Day
·       Speaking opportunity at several sponsorship levels
·       Logo in print, digital and event materials
Pre & post event coverage across multiple media outlets
Important timelines are as follows:
·       Nominations Open: Thursday, December 8, 2023
·       Nominations Close: Monday, January 9, 2023 at 11:59PM
·       Acceptances Close: Tuesday, January 24, 2023 at 11:59PM
·       Judging Begins: Wednesday, January 25, 2023
·       Judging Completes: Tuesday, February 7, 2023
·       Press Reception: Friday, February 10, 2023 at 12:15PM
·       Women in Business Gala: Thursday, March 2, 2023 (Luncheon) at Liberty North
Celebrate women that inspire on Thursday, March 2, 2023 at Liberty North. Tickets are on sale now: barriechamber.com/women-in-business-awards/
For more information, please contact:
--

Paul Markle

Executive Director  

121 Commerce Park Drive, Unit A 

Barrie, Ontario 

L4N 8X1

(O) 705 - 721 - 5000 ext. 5

(C) 249-288-3540